JUST 3 EASY STEPS TO
GET YOUR SWPPP
IN 72 HOURS (OR LESS)

We make it super easy to get your SWPPP—just 3 steps:
STEP 1:
Order your SWPPP by filling out our Job Order Form as best you can. You can fill out the website form below or you can download a .pdf copy and email it to us.
(PDF JOB ORDER FORM)
STEP 2:
Email us Access to the Civil Drawings via Dropbox or similar to Bids@ProSWPPP.com
STEP 3:
Your SWPPP Order will be confirmed and we will prepare and ship your SWPPP to you so you have it in 72 hours from receipt of your order. (24 hours turnaround available for an extra expediting fee)
If I place an Order, what do I get?
2 Hard Copy SWPPP Notebooks
Cover Letter with Pertinent Instructions
Notice of Intent (NOI), if required
Construction Site Notice
Letter of Delegation and Inspection Forms so you can

Delegate responsibility for your SWPPP Site Inspections to your Site Personell
You will receive all documents required to ensure your project is in compliance with The Construction General Permit applicable to your State.
ORDER YOUR SWPPP NOW
(and you'll have it in 72 hours or less!)
To order your SWPPP, just fill out the form below.
If you wish to pay now with a credit card, please proceed to the payment page after submitting your Order Form.
We Have A Perfect 5-Star Rating On Google. Here's What Our Clients Say...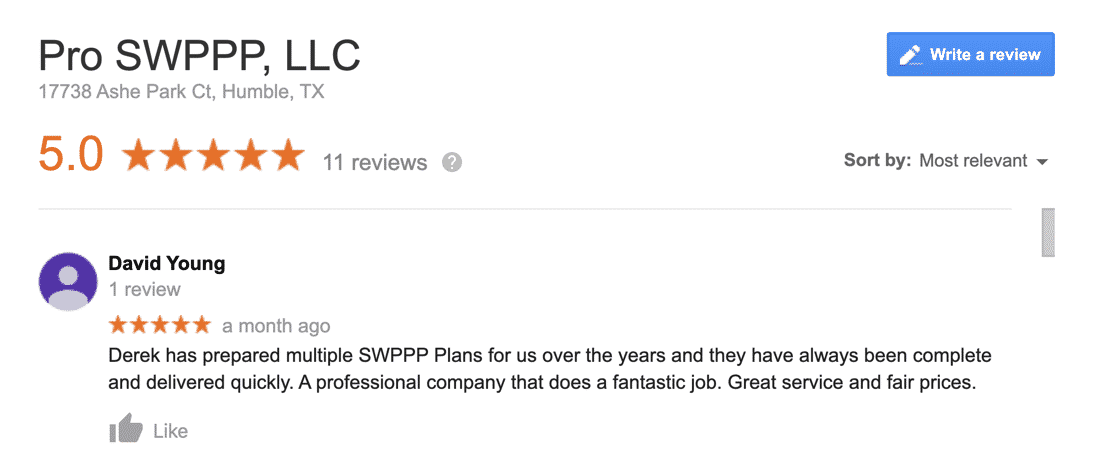 Why wait? Why pay more? Why take a risk?
We can do your SWPPP for $1,450 and up. You will have it in 72 hours, or it's free.
We have a perfect, 100% compliance record.